It's A Rose Tinted World But The Glass Is Thin
LB The Emcee is an alternative hip-hop/rap-rock artist from White Plains, NY.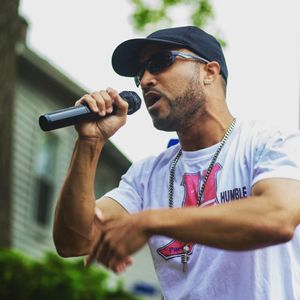 His latest project Back To Business has been defined as a hyper sick compilation of various remixes from influential artists such as Eminem, Jay-Z, Lloyd Banks, and Jadakiss with his own unique spin brought to the table. 

He has been recognized nationwide in the underground hip hop community through out various placements in national competitions including an honorable mention in Spread The Illness 4.0, placement in the top 25 of the Collective Chaos Collaboration series, and a 2nd place runner up in AMJS Beats Make a Hit Contest.

No stranger to the stage LB has performed in some of the most iconic venues in NYC including the Times Square Arts Center in Manhattan, Club Arena in Queens, and various local colleges.  He is in the process of working on his first album release The Other Side is themed around personal life struggles and issues often hidden from his peers.  The project has been defined as a true reflection of himself that is often sheathed by his upbeat and outgoing personality.

As a child he was primarily influenced by the sound of hard rock and alternative bands such as Nirvana and KoRn but later was  introduced to rap-rock / Nu-Mental sounds of Limp Bizkit and Kid Rock.  His taste for hip hop wasn't established until hearing Detroit rapper Eminem's collaboration with Kid Rock off the Devil Without A Cause album.  He spent his early high school years utilizing his love for poetry and storytelling writing acapella songs often to just pass time.
 
Due to financial limitations professional studios were always hard to come by at affordable rates so early on in his career LB decided to take the art of engineering in his own hands and built his own studio. Upon developing his craft as an artist he has been writing, recording, mixing and mastering all of his own material ever since and shows no signs of slowing down in his progression as an artist.   
---
For all inquires please e-mail the following:

General Information                                         Info@LBTheEmcee.com                      
Booking                                                                 Booking@LBTheEmcee.com
Press/Media                                                         Press@LBTheEmcee.com
Collaborations                                                    Collabs@LBTheEmcee.com